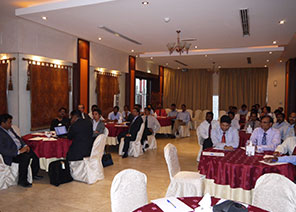 Techserve recently organised a brainstorming and training seminar for Toshiba sales executives and service engineers in the UAE, in conjunction with Toshiba Gulf FZE, which was held in Dubai on 7th May. The four hour session was attended by Rajagopal S, General Manager, Techserve and Pradeep Kumar, Senior Manager, Toshiba Copier Division – Middle East and Africa. Pradeep conducted a presentation on the company's road map for the product, and shared some of the product's global success stories.
The chief guest at the event was Sandhya Prakash, CEO, Beacon Consulting, who led a session on the relevance and impact of green products and technology in modern society. This was followed by an interactive session with Toshiba representatives who helped to review ways to improve the go-to market strategy for the pioneering eco printer.
A lot of positive inputs have come from the event to overcome the challenges perceived to promote this product. The event was a great motivator and helped to internalise the concept and technology.
In conclusion, Rajagopal S spelled out the importance of continuing to invigorate the product's promotion, citing its value for money and its environmental relevance, and re-emphasised Techserve's commitment to make this unique product successful in the UAE market.