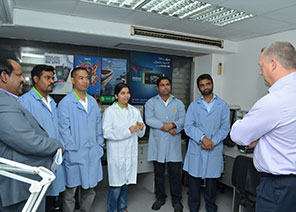 On 5th June, Rajagopal S, General Manager, Techserve and the team at the Nokia Care showroom in Sharjah welcomed special guest Ashley Garside, Director of Care for India, Middle East and Africa, Nokia, and his team of senior care officials for Nokia – Middle East and Africa region.
Ashley spoke with Techserve's Nokia Care Engineers and team members to understand first-hand the Nokia Care Centre's day to day operations and challenges. As well as expressing appreciation for their efforts, he gave assurance of enhanced training to increase their knowledge, productivity and enhance customer service levels.
The team's high levels of customer centricity were recognised and their great efforts in Nokia's online training programmes acknowledged. Ashley wished the team well in continuing to deliver the highest levels of customer engagement in the future.
A key point of discussion between senior management was the impact of Microsoft's acquisition of Nokia earlier this year, and the consequences of its strategic realignment for the business.
Rajagopal S said: "The visit of Ashley Garside and his team has been highly motivating and insightful for both myself and my team. Techserve has always experienced an excellent partner relationship with Nokia, and I take this opportunity to reiterate our total commitment towards customer service as we move forward."