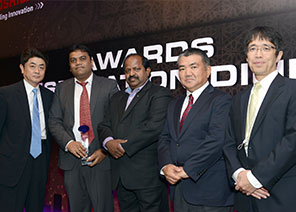 Techserve recently received a prestigious honour, as Techserve's Toshiba copier team was awarded the Silver Award for overall business contribution to Toshiba Singapore Pte for the financial year 2013, at an awards ceremony held in Dubai on 25th May 2014.
The Toshiba Annual Kick Off event held in Dubai from 25th May to 27th May was attended by Toshifumi Matsumoto, Vice President, Toshiba TEC Corporation Japan, Isao Sugehara, Assistant General Manager, Toshiba TEC Corporation Japan, Yoshida Minoru, General Manager, Toshiba Singapore, along with Sachin Wadhwa, Director – Electronics, Al-Futtaim, Rajagopal S, General Manager, Techserve and senior management from Toshiba distributors across Middle East and Africa.
Rajagopal S said: "2013 was a standout year for Techserve, as we had won an unprecedented six awards from leading principals. It is satisfying that we are able to maintain momentum, and we continue to deliver impressive sales and service results in 2014. Such accolades make us more determined than ever to consistently deliver top class, customer centric service."
The efforts of the team in realising this unique achievement have been recognised by Dawood Bin Ozair, Senior Managing Director, Electronics, Engineering and Technologies, Al-Futtaim, and Sachin Wadhwa, Director – Electronics, Al-Futtaim, who expressed their appreciation of the team's hard work, and assured customers that Techserve will continue to strive to exceed their expectations.
Pictured here are Toshifumi Matsumoto, K. Manjunath, Sales and Marketing Manager, Techserve, Rajagopal S, Isao Sugehara and Yoshida Minoru at the Toshiba Annual Kick Off event.