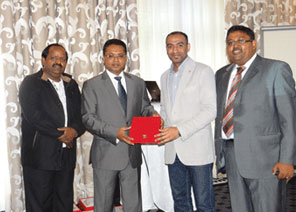 Techserve has kept up the momentum it has gained during 2013 by winning another gold award for best service in the MENA region, amongst all distributors at the recent Toshiba Service Managers conference held in Zurich, Switzerland on 23rd June.
The winner was selected based on various key performance indicators, including turnaround time, parts per service ratio, repeated repairs, customer survey and training certifications. Techserve's consistency performance in all areas has helped it to remain competitive in providing the best quality services to ever increasing numbers of customers, and this latest award recognises and reinforces the efforts and commitment of the team towards customer centricity. Techserve has demonstrated its ability to provide value added service through many customer focused initiatives, including remote tech services, data recovery services, tailor made on-site services for B2B customers, and extended warranty promotions.
Rajagopal S, General Manager, Techserve said: "2013 has been a golden year for Techserve as we have won three gold awards from leading principals in a single year. These accolades make us more determined than ever to consistently deliver top class, customer centric service."
The efforts of the team towards this unique achievement have been recognised by Ahmed Haroun, Acting Group Director – EET, Dawood Bin Ozair, Senior Managing Director, Electronics, Engineering and Technologies, and Sachin Wadhwa, Director – Electronics, who showed their appreciation of the team's efforts, and assured customers that Techserve will continue to strive to exceed their expectations.
Pictured here are Rajagopal S, and Osama Mousa, Technical Trainer, IT Services receiving the gold award from Santhosh Varghese, Group General Manager, Toshiba Gulf FZ and Binu Thomas, Head of Service, Toshiba Gulf FZ.