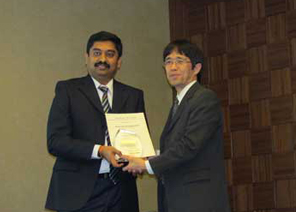 Srinivasan Rajagopalan, Service Supervisor, Office Automation, Techserve has won the gold award in the annual Quality Services campaign conducted by Toshiba in Singapore on 6th to 7th March. Conducted annually by Toshiba, the campaign aims to identify and recognise the best engineers among its distributors across the Middle East, Asia and Africa.
Srinivasan achieved the gold award honour in the network category, the technical competence of Techserve's engineers shining through against challenges from 300 engineers from 30 countries. The multi stage eligibility process for entry in the competition included an online test to shortlist the finalists, culminating in practical test at the Toshiba facility in Singapore. This is one of the most challenging competitions in terms of the evaluation process organised by Toshiba.
Srinivasan has consistently been one of the exceptional performers of the Techserve team, and has served the company for last seven years. The Techserve team proudly wishes him continued success in his career.
Pictured here is Srinivasan accepting the award from Mr. Yoshida Minoru, Toshiba, Singapore