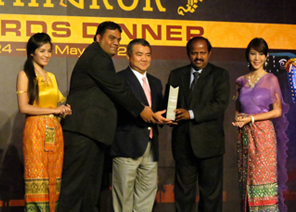 Techserve's Corporate Sales division has received the Best Distributor silver award for its 2011 performance at Toshiba's inaugural meeting held recently in Thailand for its Middle East, Africa and Asian markets. The award was presented to Rajagopal S., General Manager, Techserve by Mr. Isao Sugehara, General Manager – China, Asia, Middle East, Africa & Brazil Operations.
Isao Sugehara congratulated Techserve and expressed his appreciation for the team's efforts. In a market dominated by 14 manufacturers, Toshiba ranks third with a market share of 16.1 per cent, achieving 36 per cent higher growth compared to the previous year.
The criteria for selecting the best distributor were based on year on year growth, colour penetration i.e. conversion of black and white multifunction products to colour, and contract conversion, and Techserve demonstrated visible growth in all the assigned parameters.