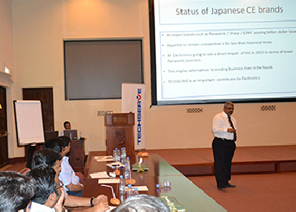 A one day leadership seminar was held in Dubai on 14th November for Techserve's line managers and the senior management team of Al-Futtaim Electronics.
A series of presentations from each line manager outlined the challenges and opportunities faced by the teams, as well as illuminating the way forward as they strive toward improved current year closing, and to create a solid platform for business in 2013.
Sachin Wadhwa, Director, Al-Futtaim Electronics highlighted current challenges within the global manufacturing sector and emphasised the need to look beyond hardware sales to ensure that operations remain profitable.
Rajagopal, General Manager, Techserve described the inevitable convergence of technologies and the challenges it presents to the service industry, and the importance of introducing new value added services to end users.
Venkat B, Director – Finance spoke about the importance of working capital management and control of back end operations, while Gurcharan Singh, General Manager, HR – EET elaborated on the significance of employee retention as he unveiled key HR action plans for 2013.
At the event, Techserve also gave recognition to some of its high performing employees. Sheeraj Rafeek, Key Accounts Executive – Corporate Sales was commended for having won the runners-up trophy in a demonstration contest in Singapore against competitors from Asia Pacific, the Middle East and African regions. Vibhu Saini, Area Manager – Dubai, Norman Michael, Service Manager OA, Abhay Mane, Manager – Air Conditioning and Home Appliances, Pushpinder Basnet, Assistant Manager – Accessory Sales, Roby George, Manager – Nokia Care also received recognition for their consistence performance during 2012.
The seminar concluded with a programme of team building activities.