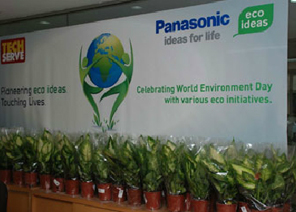 Techserve celebrated World Environment Day on 5th June, marking the annual event with a host of 'green', eco friendly activities at Techserve service centres across the UAE.
Techserve employees were invited wherever possible to treat the day as a 'No car day', and 57 company cars including fleet, pool and privately owned cars were grounded, their drivers opting for alternative routes into work using public transport. An estimated 475 litres of fuel was saved by this initiative, the figure calculated based on the vehicles' normal daily usage, which represents the equivalent saving of an enormous 1.1058 tonnes of carbon emissions into the environment! These figures highlight the scale of impact that individual actions taken collectively can have on the environment; and all employees who participated are congratulated on their efforts, and for making their important contribution.
To raise awareness of Techserve's green initiatives, over 200 customers received the gift of a plant, which was offered to walk in customers at Techserve's service centres in Dubai and Abu Dhabi, and at the Eco customer care centre in Dubai.
Trees were planted in front of Techserve's Dubai service centre by invited guests Charles Awad, Senior General Manager, GMASCO and Head of Corporate Communications, Al-Futtaim, and Suneel Mehra, General Manager, LEET. As the trees flourish, they will serve as an ongoing reminder throughout the year to employees and customers of their own growing responsibility to the environment.
As Techserve announces the availability of high quality recycled printing paper to complement its existing range, employees committed to using only recycled paper for the day on 5th June, demonstrating just how easy it can be to make the switch. Employees were also encouraged to reduce office wastage by reusing envelopes and paper.
The keys to the company's first eco branded vehicle were handed over to driver Praveen Patel by Charles Awad at a handing over ceremony held in Dubai. As the vehicle enters into service as part of the Techserve fleet for the collection and delivery of items for repair, it begins its mission of eco awareness borne by the Panasonic eco branding.
Techserve continues its initiative to offer an electronics waste collection point for customers to deposit discarded electronics products, with items disposed of in environmentally safe ways.
Mr.Rajagopal said, "We thank all our valued customers and colleagues who supported Techserve and turned these eco-friendly initiatives into a successful and fun event. We move forward with confidence in our continued support of the globally respected eco ideology of our supplier Panasonic."