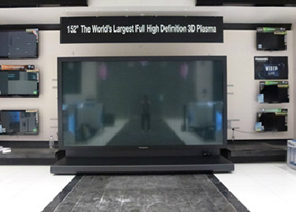 Techserve has successfully installed the world's largest plasma screen from Panasonic at the second floor Panasonic showroom, Dubai Mall, the first time in the world that a 152″ plasma TV has been installed above ground floor level!
Using the latest techniques, the Techserve team moved the unit from the parking bay up to the showroom. One of the most challenging jobs the team has had to date, and requiring a custom made setup, the team confidently and efficiently completed the installation of the gigantic screen, which weighs in at 550 kg and on which a life sized elephant can be displayed.
Techserve engineers designed a special mobile stand to move the TV to the showroom, with specially designed support fitted once the screen was in place inside the showroom.
Congratulations to the Techserve team on their skill and professionalism in executing this monumental assignment. The world's largest TV screen is currently displayed the Al-Futtaim Panatech's Panasonic showroom at Dubai Mall.