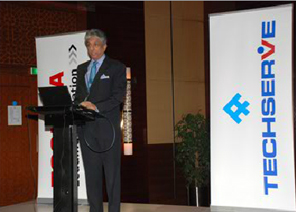 Techserve has announced the launch of Toshiba point of sale (POS) and barcode printers in the UAE. The launch event, held on 14th May at InterContinental Hotel, Dubai Festival City was attended by system integrators, value added resellers, dealers, company executives from Techserve and Toshiba, and selected end users.
Due to the high quality offering of its end to end solutions, Toshiba POS enjoys the number one market share in Japan. This hardware is the first of its kind available within the group, which, along with Techserve's existing solutions are now available to Al-Futtaim companies, and in particular are expected to benefit those companies within the retail, services, hospitality and logistics sectors.
At the inauguration ceremony, Vishesh Bhatia, President – New Strategic Growth, Al-Futtaim stated that the new additions to Toshiba's product range would serve to enhance the relationship between Toshiba and Techserve. Toshiba has recently acquired POS business from IBM and collaboration between the two companies will help to augment Toshiba's overall market share.
In a presentation, Rajagopal. S, General Manager, Techserve, expressed his delight at adding more Toshiba products into its current line-up, and highlighted that businesses of all sizes today are demanding advanced and reliable retail and auto ID solutions. He confirmed Techserve's commitment to working together with Toshiba to remain ahead in a dynamic market, by providing value added products and services to customers. Confident that in the coming year Toshiba's POS and barcode printer product range is on track to becoming a major challenger in the UAE market, Rajagopal also announced a special promotional price from Techserve to coincide with the sales launch.
At the event, Pradeep Kumar, Senior Manager, Toshiba Gulf also gave an introduction on Toshiba's retail and Auto ID business in the Middle East and reinforced Toshiba's commitment to a successful partnership with Techserve.