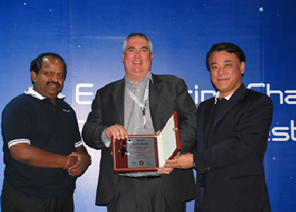 Techserve recently won three awards from Panasonic during its Partnership Convention and regional Direct Communication and Customer Care conference held in Dubai last month.
Competing with agents across the Middle East and Africa region (MENA), Techserve was recognised as a leading service provider in the region, receiving awards in the following categories:
Star Service Team silver award for outstanding Customer Service for 2011, an award contested by 56 Panasonic business partners across the MENA region.
Kintaro Project silver award for excellence in the implementation of Panasonic's Kintaro Project which measures overall service marketing communication initiatives, impact and effectiveness of marketing communication activities. Techserve proudly shares this award with sister company Al-Futtaim Panatech
Technical Olympics second runner up was awarded to Thomas Kurian for outstanding display of technical expertise and proficiency in repairing appliances.
Rajagopal S., General Manager, Techserve said: "Congratulations to everyone involved in working hard towards this well deserved recognition in their respective fields. Thanks to the team's outstanding commitment to delivering quality services to our customers, Techserve's renowned customer service continues to remain at consistently high levels for many years, and we strive toward ongoing excellence, supported by our dedicated teams."