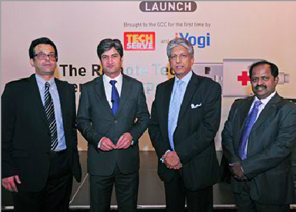 Techserve has announced an alliance with global remote tech support services provider iYogi to provide on demand remote tech support for consumers and businesses across the GCC. The pioneering service will be made available to homes and businesses that require quick and efficient resolution across a comprehensive range of technologies and brands. Roll out of the remote support service will begin in the UAE and will be offered in other GCC states by the second quarter of this year.
The partnership will augment Techserve's comprehensive existing tech support service channels. The company presently services best in class brands including Panasonic, Toshiba, Sanyo, Nokia, Bose, Sony Vaio, Aftron and Control4, and the alliance will strengthen this unique service capability by adding iYogi's online 24/7 tech support driven by its proprietary technology platform called iMantra. iYogi currently successfully provides personalised computer support for consumers and small businesses in the US, UK, Canada and Australia.
The service for PCs and a range of connected devices is primarily subscription based however incident based services will also be available. Arabic enabled support is presently being developed and is expected to be launched later this year.
Customers can choose various contact channels including real-time phone, chat and email for a suite of services including diagnosis, repair, installation and maintenance for multiple devices, software applications and other products. To subscribe or to access this service, UAE customers can call toll free on 800 0357 02455, or visit www.techserveuae.com.
At the media conference, Vishesh Bhatia, Group Director, Electronics, Engineering & Technologies said: "I am extremely glad this alliance has come to fruition because now great tech support is just a phone call away. It is revolutionary in that this service has never been offered in the UAE or in the region on this scale and will benchmark the way these services are delivered.
As technology increasingly becomes an integral part of the home and office, technical support requirements are becoming more complex and sophisticated. Technology improvements allow support services to be easily provided remotely at more cost effective rates and this is where this new service will step in.
The rapidly growing UAE consumer electronics market stands at US$ 2.4 billion in sales. We expect nearly 24,000 subscribers in the first year of operation and will roll this service out to other parts of the GCC," he added.