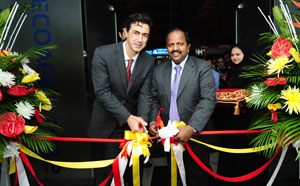 Techserve, Al-Futtaim's one-stop-shop for electronics service and systems integration needs, today announced it has partnered with Recovery Labs – Spain, to offer professional data recovery services to individuals, SME's and corporates in the region.
Recovery Labs is a leading provider of data recovery services in Europe with over 10 years' experience. The partnership with Techserve marks the first foray for the Spain-based data recovery services provider in the Middle East.
The announcement from Techserve coincides with the opening of the first professional Data Recovery Lab in Dubai. The Lab will offer its expertise in data recovery from computer hard drives, flash /USB drives, memory cards, mobile phones, CD's and DVD's.
Built to international standards and equipped with the latest data recovery technologies, the data recovery lab is manned by a professional team of 05 engineers trained and certified by Recovery Labs in Spain for a period of few months.
According to security major Symantec, 88 percent of data loss globally occurs due to negligence and security experts say data loss can cost companies in the UAE up to 30 percent of their overall revenue.
Rajagopal S, General Manager, Techserve, said corporate data loss is not only loss of information but also eats into the IT department's time and resources.
He said: "Data loss is extremely worrying for individuals or corporates. These days, we use more portable devices (like Laptops, Smart-phones, Digital Cameras etc) where the probability of physical damage is very high and so the data lose, besides the data lose due to logical problems, software and firmware issues. With the advent of new technology, Training, Special Tools and the state of the art 'Clean Room" we can recover data as much as 100% of the recoverable data. With our new Data Recovery Lab we aim to offer internationally bench-marked data recovery services using the latest methods and technologies in data recovery.
"Our partnership with Recovery Labs gives us a unique opportunity to offer data recovery services to meet the growing demand for professional data recovery services in the region."
For more information on Techserve's data recovery services, customers can call 04 2825112 email techserve@alfuttaim.ae or visit the website www.techserveuae.comThe Data Recovery Lab is open Saturday to Thursday, morning from 10.00hrs to 14.00hrs and afternoon 16.00hrs to 20.00hrs