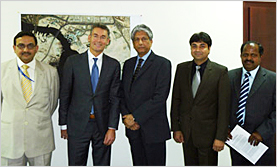 Techserve has been appointed as service provider for Bose and will provide all levels of service for the world renowned audio manufacturer in the UAE.
The agreement was signed by Vishesh Bhatia, Group Director – Electronics, Engineering & Technologies, and Ron Holtdijk, Divisional Manager, Bose Corporation, paving the way for future installation services for all Bose products.
The landmark agreement follows similar agreements with major global brands such as Control-4, Nokia and Sony VAIO, establishing Techserve as a regional leader in the service and solutions segment. Techserve is also the recognised service provider for Panasonic, Toshiba, Sanyo and Aftron.
Following the agreement, Probir Mukherjee, Managing Director – Electronics division said that with major international brands in its growing portfolio, Techserve is now recognised as the premier quality service provider in the region. "Our service competencies and approach to quick solutions has leveraged our position to a considerable level, giving the brands we work with a strong comfort factor."
Techserve will offer a quick turnaround of all Bose audio products bought in for repair. The full service repairs across all levels will include cosmetic components replacement, key components replacement and board-level repairs.
Rajagopal S, General Manager, Techserve, said that the company was delighted to be awarded the service agreement with Bose. "Our trained service staff will be on hand to provide any assistance and Bose customers can rest assured that their audio equipment is in good hands."
Techserve will have six easily accessible locations located in Dubai, Abu Dhabi, Al Ain, Sharjah, Fujairah and Ras Al Khaimah and all Plug-Ins stores will act as drop off points for Bose customers.