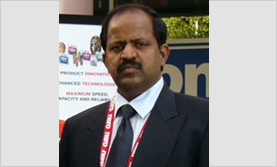 Techserve's consistent outstanding performance was recognised at the Regional Conference for Customer Services by Panasonic Middle East on 21st and 22nd April at Grosvenor House, Dubai.
During the conference, Techserve picked up three awards: the Silver award in the Panasonic Star Service Competition (achievement of KPIs: 95 – 99%); the individual award for Excellent Administrative Support went to AK Sekar; and Mr Normal was 2nd runner-up in the technical competition, OA Category.
"Techserve has been the number one service provider for Panasonic in the UAE for the last three years in a row. We attribute this achievement as a direct outcome of our customer-centric approach and assure our customers that Techserve will be striving to exceed their expectations in the years to come," said S Rajagopal, General Manager, Techserve.
The Customer Service Index (CSI) tables below clearly show excellent levels of satisfaction from Panasonic customers. The surveys are conducted by the independent agency Synovate, benchmarked against leading brands such as Sony, Samsung and LG.